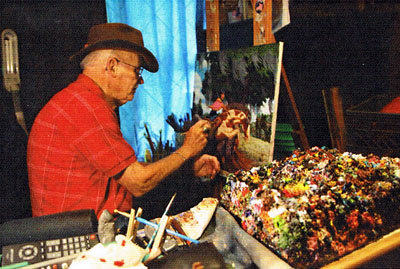 photo credit - Seminole Tribe
Biography/Resumé

1941 Florida born; 3rd generation Floridian

1942-1960 Raised in Dania,
Graduated from South
Broward High School

1961-1969 Resided in Hollywood, FL,
married and raised three
children; Occupation- lithographer

1970 - 1973 Family lived in Australia
1973 -1983 Returned to Hollywood, began to
sell art at weekend art shows, displayed and sold
art from Seminole Arts and Crafts Center

1983 Moved to Desoto County to begin art career
on a full-time basis
2011 The Stetson Kennedy Foundation recipients of annual
"Fellow Man & Mother Earth" Award. Guy LaBree of Arcadia,
internationally acclaimed painter of the Seminole Indian lifestyle.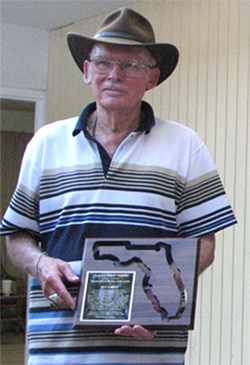 Guy with award at Florida Folk Festival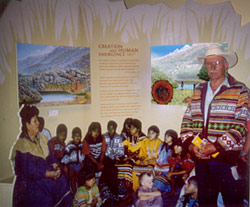 Guy at Smithsonian American Indian Museum
LaBree painting commissioned by the Tribe
will hang in the new Museum of The American
Indian on the Mall in Washington D.C.

Featured artist for 2012 Florida Folk Festival
60th Florida Folk Festival

13th Annual American Indian Arts Celebration
at Big Cypress Indian Reservation

October 23,2010
Central Florida Autumn Art Show
in Lake Wales
22549 Highway 27
Nov 5-7, 2010
13th Annual American Indian Arts Celebration
at Big Cypress Indian Reservation
December, 2010
Art Exhibit with City of Naples
at Cambier Park Building
755 8th Ave South

March, 2011
Exhibit at Visual Arts Center
210 Maude Street
Punta Gorda, FL

Paintings by Guy LaBree
Ah-Tah-Thi-Ki Museum
12th Annual American Indian Arts Celebration
November 6-8 2009
Big Cypress Seminole Reservation

Life, Legends & History of Seminoles
November 15, 2007 - June 1, 2008
Heritage Gallery
Tallahassee, Florida

Smithsonian American Indian Museum,
permanent Seminole exhibit
(Grand Opening 2004)

Seminole Cultural Museum, Tampa (1983-2003)

Missouri Jefferson Barracks Museum (Gentry Exhibit)

Stephen Foster Museum (1983)

Lake Wales Depot Museum (1984,1992)

Naples Depot Museum (1986,1989)

Tampa Museum of Art (1988)

Boca Museum of Art (1968)

Florida Historical Museum (1980)

Collier County Museum (1990,1996)

Loxahatchee Museum (1991)

Dade City History Museum (1992)

Highland Cultural Center (1993, 1996)

John and Mabel Ringling Museum (1994,1998)

Safety Harbor Museum (2000)
College Campus Exhibits:
University of Tampa (1982)
University of Florida (1986)
Rollins College (1989)
Florida Southern College (1989, 1993)
Manatee Community College (1995)
St. Petersburg College (1999, 2000)
"Florida Indian Heritage", South Florida Community College Museum


of Florida Art & Culture.  (2007)


Major Wildlife Shows:
Charleston, SC Southeastern Wildlife Exposition (1989, 90, 91)
Orlando Florida Widlife Exhibition (1994,1995)
Miscellaneous:
The Seminole Tribe, "Discover Native America". Florida Fairgrounds
Reception in Tallahassee for a six month LaBree exhibit.(2007)


R.A. Gray Building; Museum of Florida History;  Heritage Gallery. (2007)
Seminole Hollywood Hard Rock Casino Grand Opening (2004)
Battle of Okeechobee Reenactment (1987, 2002, 2003)
Seminole Tribal Offices, Hollywood, FL (permanent exhibit)
and Big Cypress Swamp
Native Village, Hollywood, FL (permanent exhibit)
Florida State Capitol Building (1981,1985,1994)
Innisbrook Masters Exhibit (1982)
Tampa Sports Unlimited (1982, 1983)
Featured Artist, Florida Folk Festival (1983)
Ducks Unlimited, East Hillsborough (1984)
Ducks Unlimited, Tampa (1984)
Ducks Unlimited, West Palm Beach (1984)
Osceola Center for the Arts, Kissimee (1988, 1993)
Silver Springs (1993)
Opryland - Discover Native America (1994)
Miami Planetarium (1995)
Riviera Country Club, Coral Gables (1996, 1997)
Television:
Discovery Channel's "How the West Was Lost" (1995)
In Print:

Legends of the Seminoles, 1994, Jumper,
illustrated by Guy LaBree
Contact: Pat LaBree
P.O. Box 2463
Arcadia, FL 34265
(863) 494-4207
[Home] [About Guy LaBree] [Background & Resume][ The Book [ Artwork] Giclée ][Contact Us